ABOUT US
Donati's is known by the communities it serves to be a place that offers more than just our delicious, hand-made pizzas. We specialize in corporate catering, school and team lunches, pick-up and delivery. Whether you want to come in and grab a slice while watching your favorite sports team or need catering for the whole office, Donati's has it all. We always offer lunch specials, but nothing is more tempting than our all day, everyday $1.85 slices. We also have a large variety of menu choices which include gourmet pizzas, pastas, salads, sandwiches and much more. If you can't decide amongst all our great choices, we recommend you try the Chicken Bacon Ranch Panino or Lake Forest Chopped Salad, our most popular selling items. Customer satisfaction is always our number one priority at Donati's, and we guarantee you will not be disappointed.
- Jeff Urso, Founder of Donati's
WHAT MAKES US GREAT

Donati's is a hometown pizzeria where the number one priority is always customer satisfaction. The story of how Donati's came to make the perfect pizza started with founder, Jeff Urso. Jeff's story is much like how every other great American story begins. Jeff worked at several other pizzerias and restaurants to learn the trade and perfect his technique until his recipes were something he felt proud to serve his customers. After achieving the experience he needed to succeed independently, Jeff sought out a location in Highland Park, Illinois with a plan to open his first pizzeria he could call his own. In 2010, Jeff opened the doors of Moccio's pizzeria with $50.00 in the register and the hope his doors would stay open the following day. One year later, Moccio's still had its doors wide open and was a local success. Jeff's drive didn't stop there. He felt his recipes needed to be shared with others in his hometown of Lake Forest, Illinois. Jeff made the tough decision and sold Moccio's in the summer of 2011 to open the 900 square foot pizzeria called Donati's of Lake Forest. Soon, everyone in Lake Forest was hearing about Donati's $1.00 slices and large variety of delicious food choices.
A few months later, Jeff's childhood friend Ray Bozic, also a Lake Forest High School graduate, joined the Dontati's team and the two became partners. With Ray specializing in catering, Donati's continued to grow in both size and location. In 2012, Jeff and Ray dedicated countless hours to renovating and expanding Donati's into a 3,500 square foot pizzeria where customers could sit and enjoy their food while watching a favorite sports team on television. It was clear Donati's had become a staple for Italian food in the community, which only meant it was time to push the envelope even further and expand not in size, but in location. In May 2013, another Lake Forest High School graduate and childhood friend, Tom Platz Jr., joined the team and together opened their second Donati's pizzeria in Vernon Hills/Mundelein, Illinois. The Vernon Hills, Mundelein and surrounding communities welcomed Donati's, which soon began to provide lunches and dinners for local schools, sports teams, businesses and charities. Now moving toward 2015 the guys are taking their talents to Schaumburg area. Donati's 3 will be located at the intersection of Plum Grove rd and Euclid. Looking back at the history of Donati's, there is one belief that holds true: customer's come first. By striving every day to support this belief, the Donati's team plans to serve customers with the highest quality of food and service for many years to come.

-The Donati's Team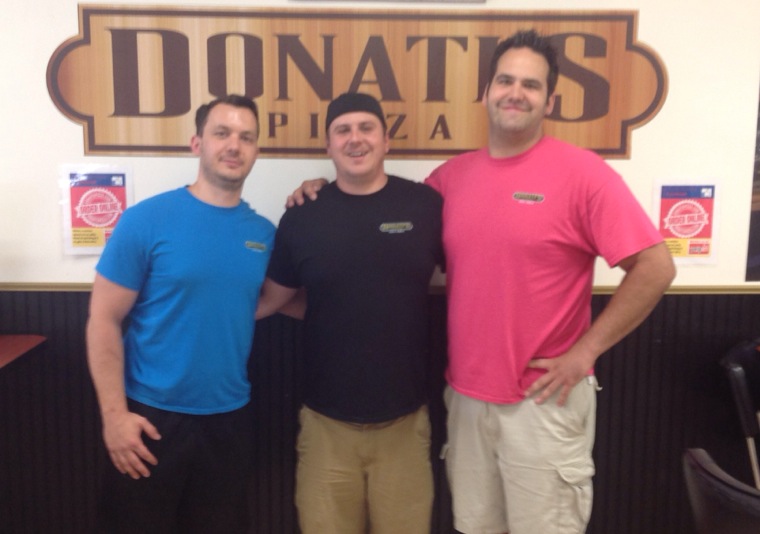 HOURS
Sunday: 12:00pm - 8:00pm
Monday - Thursday: 10:00am - 9:00pm
Friday & Saturday: 10:00am - 9:30pm
We deliver during all hours of operation.
Locations
950 N. Western Ave. - Lake Forest, IL
Phone: (847) 735-8900
1408 S. Butterfield Rd. - Mundelein/ Vernon Hills, IL
Phone: (847) 918-0900
1925 S. Plum Grove Rd. - Rolling Meadows
Phone: (847) 359-7900