ABOUT US
Donati's is known by the communities it serves to be a place that offers more than just our delicious, hand-made pizzas. We specialize in corporate catering, school and team lunches, pick-up and delivery. Whether you want to come in and grab a slice while watching your favorite sports team or need catering for the whole office, Donati's has it all. We always offer lunch specials, but nothing is more tempting than our all day, everyday $1.85 slices. We also have a large variety of menu choices which include gourmet pizzas, pastas, salads, sandwiches and much more. If you can't decide amongst all our great choices, we recommend you try the Chicken Bacon Ranch Panino or Lake Forest Chopped Salad, our most popular selling items. Customer satisfaction is always our number one priority at Donati's, and we guarantee you will not be disappointed.
Pies by local guys

Donatiís story is a little different than most restaurant ownersí story. Donatiís was founded by two best friends from high school Ray Bozic and Jeff Urso, one with a passion for food the other a passion for his home town. Donatiís opened its doors in 2011 in Lake Forest.We rented a 900 square foot, to put it the best terms possible "hole in the wall". It was in the back of a courtyard with zero exposure but was the only place in Lake Forest that not only we could afford but that would rent to us. Everyone told us we wouldn't make it, stating the same restaurant failure rates, lack of exposure, lack of business knowledge and resources. We didn't care, we were so happy to have a place of our own we opened our doors with $200 in the bank and hoped we'd be open the next week. We had 3 people working there including Jeff and Ray. Jeff's passion for pizza, started at 14 when he worked along side his father at one the best pizzerias in the north shore. Jeff always wanted to improve things, and would test different ways to incorporate his south side Chicago families flavor and mix it with north shore type pizza.
When Jeff was 25 years old he saw an opportunity of a life time and didn't look back. Jeff opened Donatis in 2011, and of course he called his best friend to join him. We exploded, we ran a promotion for $1 slices and we would sell over 1,000 slices a day. We had a line 50 people deep at points. So, what did we do? we invested it all right back in our business and expanded our Lake Forest restaurant into a 3500 square foot pizzeria. We made it for the kids. We both graduated from Lake Forest High School and when we grew up in this town, there were not a lot of places to go. We made a place the kids could come and hang out. I can't credit the kids of Lake Forest enough for putting us on the map. Their parents started ordering and then we picked up all the school business in the area. Our business kept growing so fast we couldn't keep up.
In 2013 we opened the Mundelein location and in 2014 opened the Palatine location. Now in 2015, we are opening our vision, what we always wanted. A pizzeria with great food and Beer. Ray who is from Lake Bluff always wanted to have a pizza place in his home town. When we were younger, Lake Bluff had a couple old restaurants and wasn't known to be trendy town. But now, much like us, Lake Bluff is growing and expanding and will have over 20 restaurants in a 2 mile radius, something we are proud to be part of. Our love for food and love our our towns made us into what we are today. We grew our little 3 employee 900 square foot hole in the wall to a 4 unit pizzeria with over 50 employees in 4 years. We truly care about our community and that is one of the biggest differences between us and other companies. We aren't pretending to be something we're not. We are involved in every single school, sports club, and charity we can be in our town. Being part of the community is and always will be our #1 goal. Lake Forest and Lake Bluff are where our hearts are. We expanded to other areas and have done well but our hometowns will always be where our past, present and future are.

- Jeff Urso, Founder of Donati's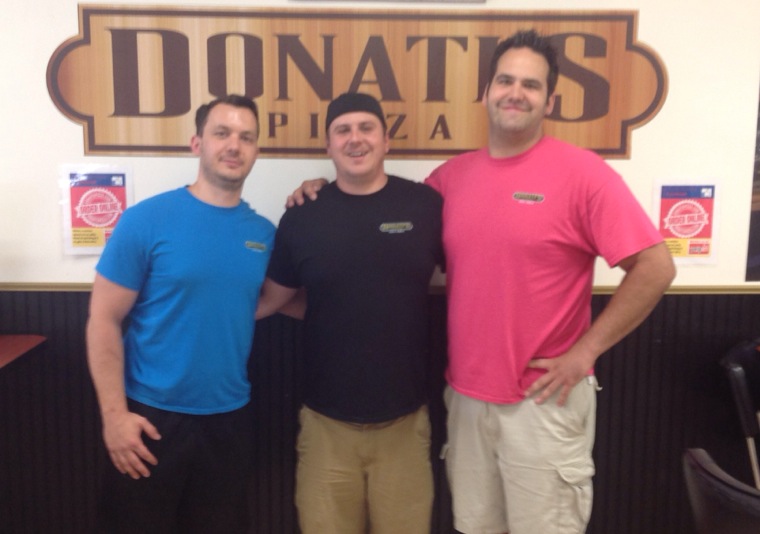 HOURS
Sunday: 12:00pm - 8:00pm
Monday - Thursday: 10:00am - 9:00pm
Friday & Saturday: 10:00am - 9:30pm
We deliver during all hours of operation.
Locations
950 N. Western Ave. - Lake Forest, IL
Phone: (847) 735-8900
1408 S. Butterfield Rd. - Mundelein/ Vernon Hills, IL
Phone: (847) 918-0900
1925 S. Plum Grove Rd. - Rolling Meadows
Phone: (847) 359-7900
205 S. Waukegan Rd. - Lake Bluff
Phone: (847) 573-0001